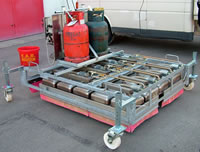 seamless asphalt repairs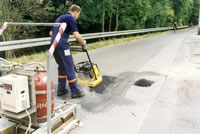 seamless asphalt repairs

Seemless Asphalt Repair
C.A.R. - asphalt repair of open seams
Whether wild tears, open seams, asphalt-repairs in winter or demarking, Controlled Asphalt Replaster saves you both time and money in solving your problems.
Wild tears ... open seams...
... are heated up controlled and closed with a vibrating plate or roller. Open seams are scattered with C.A.R. filling asphalt to complement missing material.
Road Holes
In streets the road holes often appear in the asphalt which have to be repaired also in winter at freezing degrees. The often used cold mixed asphalt is not very durable. Closing with mastic asphalt is very expensive for those small holes.
C.A.R. heats controlled the area of the road hole. With a rake the available asphalt is loosened up and the dirt is removed from the heated surface. The patented C.A.R. Repair asphalt (cold from buckets) is filled in the road hole, is heated up and afterwards rolled or condensed with a vibrating plate. Instead of C.A.R.-filling asphalt hot asphalt can also be used from a cooker of the thermo container .
With controlled heating by C.A.R. the old asphalt is also heated up. The cutting work and the joint tape is not needed, because one strong grain-in-grain-compound is produced.
Unmark
Street marks can easily be removed with the C.A.R. without phantom effect. Missing asphalt is complemented.
CreaPrint
The asphalt creation procedure CreaPrint can be stamped on the asphalt heated by the C.A.R. device. In particular with the application of logos, emblems and accentuations this is especially efficient.
C.A.R. Filling Asphalt
Should no hot asphalt be available or the delivery too expensive, can C.A.R. -filling asphalt purchased in bags. This can easily be filled in, heated up controlled and rolled.